10- The reindeer you want to adopt
I will not be original and say Rudolf, as it's the only one I know. Santa's reindeer aren't so popular in France. But we do know the song "Rudolf the red nosed reindeer", we even have a French version of it! Enjoy, if you understand my language ;)
11- The yummiest holiday dessert
As everyone I guess, I love eating chocolate on Christmas! :P
I'm not good at baking at all so I don't bake any Christmas cake, to be honest I don't even know if there are some typical French cookies to bake for Christmas. But I don't think so, because my grand mother loves to cook and is a good cooker, so I guess she would bake us some traditional cookies if there were any. But I'm going off the topic! I was supposed to tell you about the yummiest holiday dessert! I think it was the Christmas cake I ate two years ago (if I'm not mistaking) for Christmas Eve. It was an iced cake, with chocolate and mint. So yummy! :D
And here's a picture: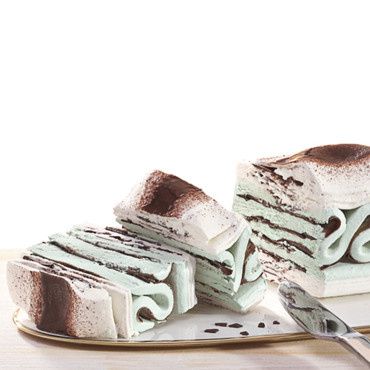 12- Some family Christmas traditions
We start celebrating Christmas on the 24th, with the Christmas Eve dinner. Generally it's not a big dinner, it's actually a very small dinner because there are only my mother and I. We eat in the living room instead of the kitchen (where we're used to eat on normal days). The food varies each years, but generally there always is salmon or shrimps, because it's yummy and we both like it. And obviously we end the dinner with a cake and some chocolate! :D I'm not religious, but my mother is so that's why we read the Holy Bible after the dinner. Then, (it's around 10 pm because we eat late), we open the presents.
The 25th is spent with family. We open the rest of the presents, and then have a huge meal, that generally contains the food I told you about in my previous Christmas post. The meal really is huge. I always feel like I've eaten enough for the ten upcoming years :P But it's yummy! We eat at my mother's cousin, and she's a teacher in a cooking school, so she obviously knows how to cook yummy things :)
So, well, in my family Christmas is mainly about eating. Of course we also discuss a lot (there are members of the family we don't see so often), but I wish we had some more traditions, like taking a walk after the meal, or playing some games... That would be nice too. I'm not so into cuisine and so on, although most people in my family are.
Christmas greetings in French
Love, Tári